I look like I'm out to celebrate the
Christmas season!
But my boy insisted that I look like a cute mouse instead. Pffffff. Anyway please bear with my messy room, I even have my luggage lying around in preparation for my Korea trip on the 19th. Haha :3 But I'm sad that I cannot celebrate Christmas because I'll be reaching SG exactly on the 25th at night ): booooo.
We went to catch a movie
Life of Pi
. Honestly, I wasn't very interested in this movie and was a little reluctant to watch it. But my boy told me that it has 5 stars on newspaper critics so we gave it a try. Not bad actually, it actually captured my attention. Maybe because of the animals!

The whole movie basically revolves around the life and adventure of Pi who was called by the name of "Pissing Patel" as his name was Piscine Molitor Patel named after a swimming pool in France. So from a very luxurious pool, it changed to pee. Poor boy.. Haha. But the whole movie focused on Pi and his half enemy half friend, Richard Parker. It's actually a tiger. And yes, it's the best part of the whole movie, so magnificent! But I felt a little sad at the end, if you watched it, you'll know why ): And the whole journey is pretty much interesting about how he managed to survive alone with a hungry tiger on a lifesaving boat.

We should all, "believe the unbelievable"!


Went to have dinner at
Fatfish Steamboat
at Ehub Downtown East as my boy is always craving for it when he walked past the restaurant during work. Prices for
Fri-Sun dinner
is
$28.90++
and it's a buffet :D
There were 2 choices for the soup base -
Chicken & Tom-yam
so we had a mix so that we can share. Each person get to choose a premium item so I chose scallop.

A plate of sliced thin beef but I prefer the fillet one as it has more taste. I was quite disappointed with the beef as it was quite tasteless to me. My favourite dish was the tofu and cockles as the taste was really sweet. Usually tofu has not much taste, I don't know why it tasted so nice! I tried to cook the vegetables in my Tomyam soup towards the end, and I almost choked on the chilli!!!! T_T No idea if it's just me or that the vegetables can absorb the spiciness SO WELL. I went to disturb my boy's soup with the tofu and he was so frustrated with it as he didn't like it hahaha (>_<)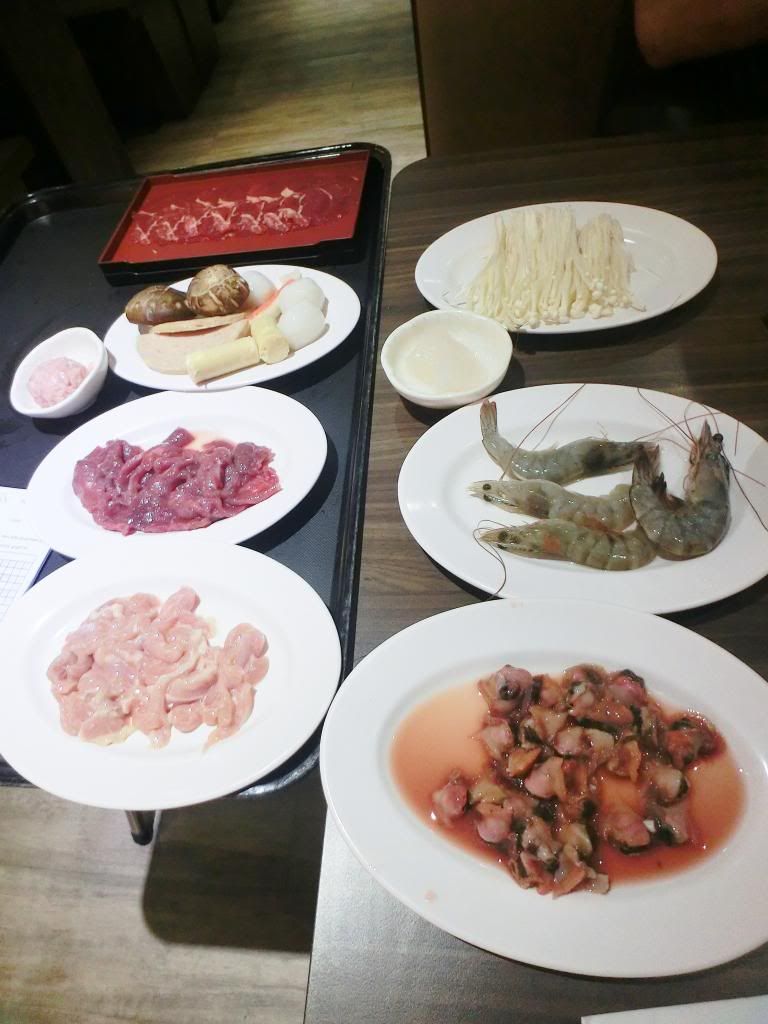 I didn't really like the food here so I pushed all the rest of the food to my boy. Yes, I'm very evil :< He's a big eater when he wants to anyway! Hehe.


I wouldn't really want to go back to Fatfish for more steamboat as the prices are not really worth it. The drinks are super expensive as well. S$2.50 for a can of coke.. Usually buffets like that should have free flow drinks. I would highly recommend Jpot even though it's more expensive and ala-carte.
Read here to know about my experience at Jpot!!
*Craving for it already.. Mmmmm*
There's a desserts & pastries shop just opposite the restaurant called
House of Mini
, and it's so cute!!!!
Like bite-size baby cupcakes and donuts.
It's probably just the size of those mini fruit tarts! Yum yummm :> It's about
S$1
per cupcake or donut for the small sizes. But we got a bigger donut each for
$1.50.
TADAHH~~~ :3
Not bad, but I prefer the plain sugary ones~