Do you all remember this classic story book tale
"The Wizard of Oz"
? The story goes like this...
Dorothy and her dog are caught in a tornado's path and ended in the land of Oz. During her journey, she met a Scarecrow who needs a brain, a Tin Man who wants a heart and a Cowardly lion who needs courage. All of them hoped that the Wizard of Oz could help them before the Wicked Witch of the West catches them.
Yep, familiar?
And now Disney has came out with a new movie
"Oz The Great and Powerful"
!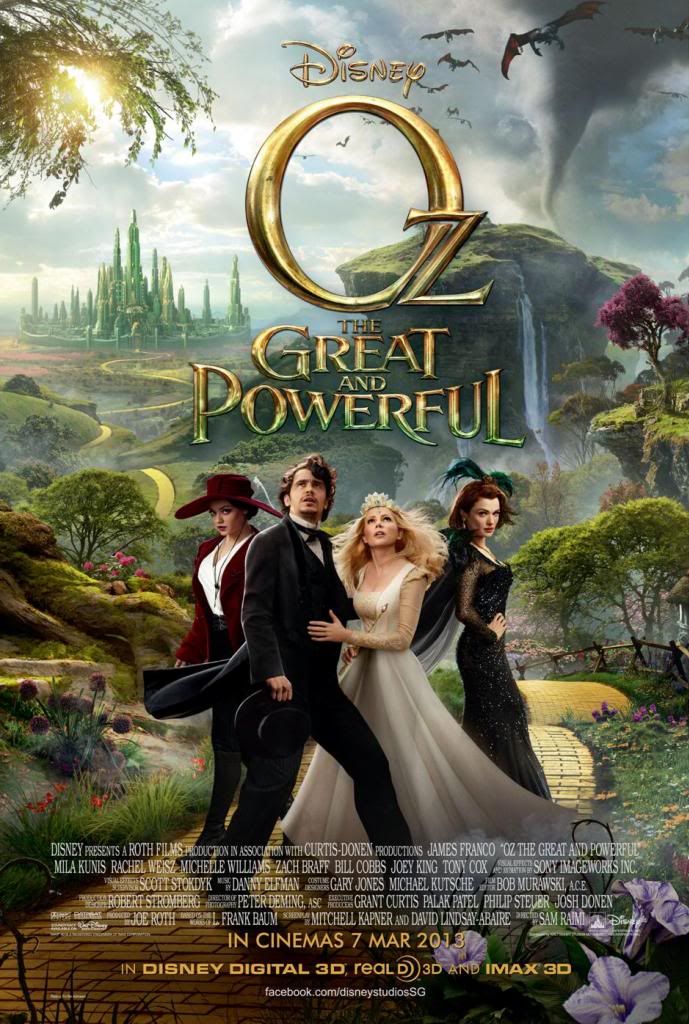 Disney's fantastical adventure
"Oz The Great an
d Powerful" is directed by Sam Raimi,

imagines the origins of L. Frank Baum's beloved wizard character;
produced by Joe Roth, with a screenplay by Mitchell Kapner and David Lindsay-Abaire (credit not final). Grant Curtis, Palak Patel, Philip Steuer and Josh Donen are serving as executive producers.
Short synopsis:
" When Oscar Diggs, a small-time circus magician with dubious ethics, is hurled away from dusty Kansas to the vibrant Land of Oz, he thinks he's hit the jackpot—fame and fortune are his for the taking—that is until he meets three witches, Theodora, Evanora and Glinda, who are not convinced he is the great wizard everyone's been expecting. Reluctantly drawn into the epic problems facing the Land of Oz and its inhabitants, Oscar must find out who is good and who is evil before it is too late. Putting his magical arts to use through illusion, ingenuity—and even a bit of wizardry—Oscar transforms himself not only into the great and powerful wizard but into a better man as well. "
Although this isn't the typical horror witches and wizards type of movie, I would still like a switch from time to time. Seems like a battle between the
GOOD
and
EVIL
witches apart from the fantasy characters and creatures appearing in the show. Something I love about Disney shows,
the good always triumph over th
e evil!!
╰
(︶ω︶)
╯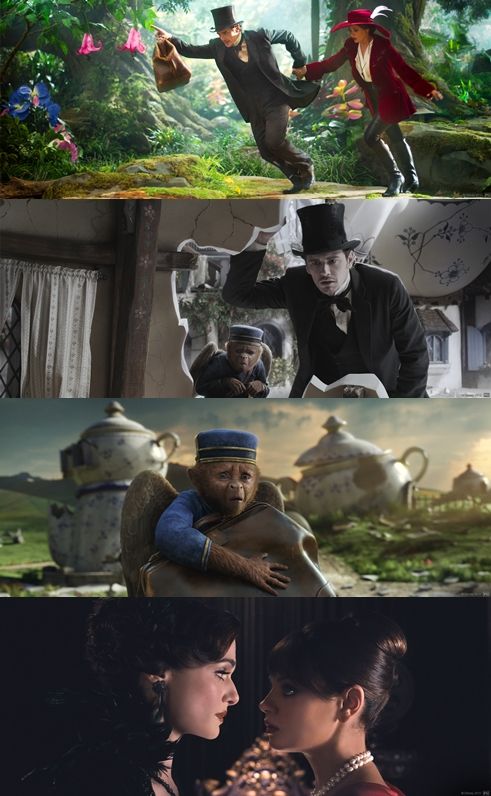 And besides a nice story plot, we get to enjoy
breathtaking scenery
in the movie!
It's like a fantasy dream, a short getaway.
Seems like an enchanted forest to
me.
(。◕‿◕。)

Main cast:


From left to right:
Oscar Diggs (James Franco),
Theodora (Mila Kunis), Evanora (Rachel Weisz)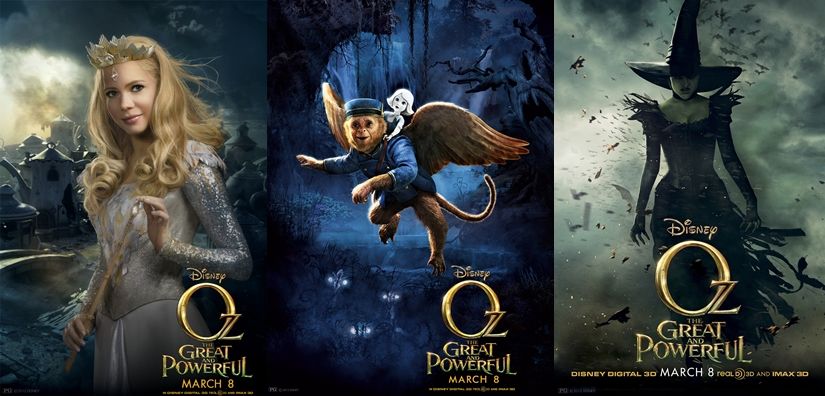 From left to right: Glinda (Michelle Williams), Finley a winged monkey, The evil witch
My favourite character would be
GLINDA

.
What attracts me most about her is her
beautiful white dress with shiny sequins on her sleeves.
Her crown is really unique
embellished with a big jewel on her forehead.
Looks like she's wearing a wedding gown. And she's pretty too! She seems more like a princess than a witch to me actually.
Glinda is a
compassionate and benevolent
witch, but also
a fierce protector
of her people. And she helps Oz achieve his true destiny. So she's actually pretty with a kind and brave heart.

I can't wait to catch this movie and to indulge in the fantasy of Wizards and Witches.
Don't forget to watch this trailer below!


Catch
Disney's OZ THE GREAT AND POWERFUL
in Singapore cinemas
this
7 March 2013
I'll be going for it, how about you?
Don't forget to:
Like the

Official Walt Disney Studios Singapore Facebook Page
Follow

@disneystudiosSG
Subscribe to the Official Disney Studios Singapore YouTube Channel
By the way, you can also take part in the "Tweet To Win" promotional contest on Disney Studios Singapore Facebook Page where you stand to win additional movie premiums
ツ
REVIEW:
The show was mediocre but the effects were super awesome, with dazzling scenery and colourful background. It's like living in a fantasy world. There were some twist here and there in the story, but more or less expected. I think it's nice to watch it for the pretty effects. I think it's pretty funny when you see the people getting shocked when Oz uses technology from his side of the world. Haha. One of my favourite character besides Glinda is the little monkey - Finley. Poor Finley was always "bullied" by Oz to carry his heavy stuff and was demanded to assist him. But all ends well definitely! What's great about childhood movies is that they ALWAYS have a happy ending :D